A series of 9 cookery awarded books, all in the same style about major Belgian chefs.
The pictures were shot on location next to or in the kitchen with a full studio equipment. In close cooperation with the chefs them self, what I find very important.  After all, it's the chef's cuisine!
The chefs are: Geert Van Hecke, Stéphane Buyens, Jan Buytaert, Kris De Bruyn, Lieven Demeestere, Christian Denis, Laurent en Vincent Folmer, Felix Alen, Peter Goossens, Emiel Kelderman, Marc Lefevere, Bert Mewis, Roger Simul, Roland Stas, Guy Van Cauteren, Carl Wens, Piet Huysentruyt, Pierre Weynants.
The first one won the Gourmand World Cookbook Award 2003 for the Best Chef's Book in Dutch. The sixth one won the Gourmand World Cookbook Award 2008 for the Best Television Celebrity Cookbook in Dutch. I finally stopped this series, I was nearly repeating my self and 9 was a good number...
Below you can see some examples randomly picked out of the 9 books.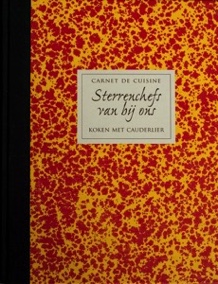 The pictures of the dishes are interwoven with the recipes on a white sheet of paper to add various languages in the printed versions.